How to Order a Domain Transfer
Note:
For most domains, you will need to renew for an additional year as part of the transfer process.
You will pay for a year of renewal, and this extends your domain expiry date by 1 year. This was originally arranged so domains would not expire during transfer. '.au' domains are able to be transferred for free, and

they do not get the additional year of renewal upon transfer.
To transfer a domain
, you will first need a domain transfer code (EPP code).
.au domains can have their EPP code resent from this link.
EPP codes for other domains can be found at their current domain provider. We have guides on finding these here.
Step 1
- Log into
Client Area
and Click on
Active Domains.

Step 2 -
Click on
Transfer a Domain
on the right hand side.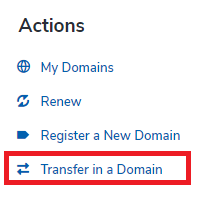 Alternatively, click on
Domains
then
Transfer Domains to Us
on the left hand side.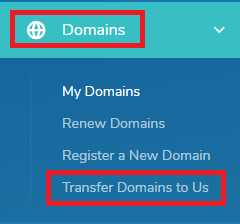 Step 3
- Enter your Domain name and the EPP Code, then select
Order Now
.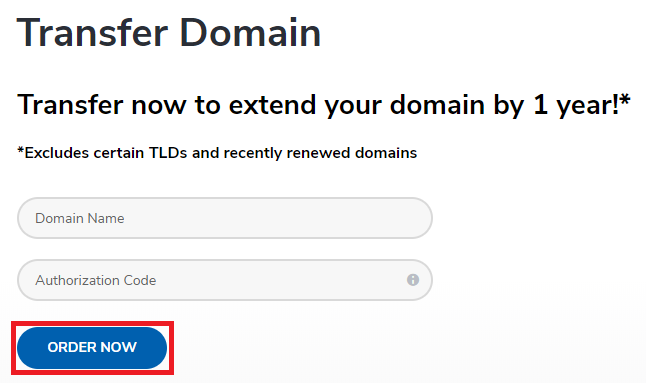 Step 4 -
Complete the checkout. Once any payment has been made, your transfer request will be submitted.
Step 5 -
An email from our domain name registration distributor "TPP Wholesale" will be sent to the Registrant email address attached to this domain name. This email contains a confirmation link that must be clicked to proceed with the transfer request (the domain name transfer will not be initiated until confirmed within this email).
Once confirmed, please allow up to 7 days for the domain to complete the transfer to your account.
Important notes:
If your email address attached to the domain is updated after you have completed your transfer order, advise us to resend the confirmation email.
The current email address linked to your registration can be confirmed by the current registrar, who should also be able to update this if required.
Ensure the domain is not under Registrar Lock, does not have WHOIS Privacy activated and is not expired.
Any global domains (e.g. ".com" or ".org") cannot be transferred if they have been registered, renewed or transferred within the last 60 days.
Any Australian domain (e.g. ".com.au" or ".org.au") that are due to expire within 10 days cannot be transferred.
---